Moving house with your cat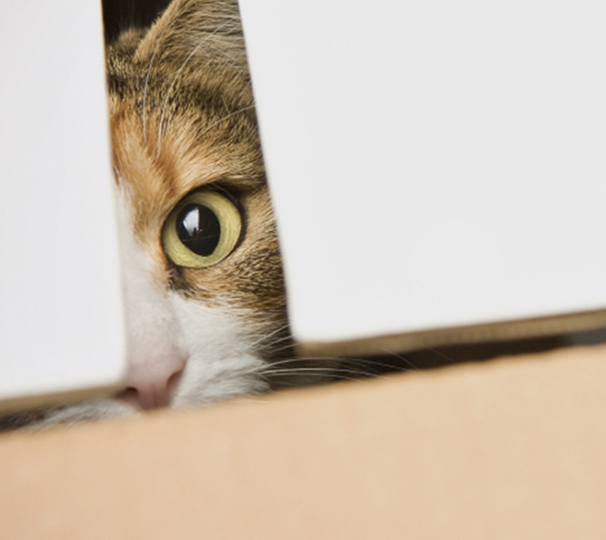 Cats are territorial creatures - they develop strong bonds with their environment. This means that house moves can be stressful.

However, a little planning and consideration can go a long way, ensuring that the transition from one home to another runs smoothly.

Here are a few tips to help keep your kitty happy and calm during the move:

Moving day
● For anxious cats, placing them in a cattery while you move may reduce stress.

● Before loading the van, place your cat in one room with all her belongings, shutting all doors and windows - empty this room last.

● Before removing the last of furniture, place your cat safely into the car (not the boot).

● Ensure your cat has access to water.

● Ensure the car is well ventilated; never leave the cat inside a hot car if you stop for a break.

● Once at your new home, install the 'cat room' furniture first.

● Once the room is ready, let your cat in with their familiar belongings, water and litter tray and the door shut.

● Close all external doors and windows.

● Once the removal men have gone, feed your cat, so they can investigate the rest of the house, one room at a time.

Helping your cat to settle in
● Keep your cat indoors for at least two weeks to get used to the new environment.

● Provide familiar smelling objects (blankets/toys).

● Maintain your usual routines.

Letting your cat outside
● Keep the door open at first so your cat can run home if startled.

● Even if they are microchipped, you might want to ensure they wear a collar with an ID tag.

● Ensure your cat is vaccinated.

● Consider fitting a cat flap.

● Chase away any territorial cats you see in your garden!
Preventing your cat from returning to his old home
If you're moving locally, your cat may find familiar routes back to your old home. It might be worth asking the new occupiers to contact you if it happens. To avoid confusing your cat, make sure the new owners don't feed or encourage them to stay or return.

It may take many months before your cat settles down at a new home. However, if your cat persistently returns to your old home, it may be kinder and safer if the new occupier or a friendly neighbour agrees to adopt them.

Lifestyle changes
Changing your cat's lifestyle from outdoor to indoor isn't advisable, but occasionally it's necessary. When transitioning from an indoor to an outdoor cat, take things very slowly.

When done correctly, this move will significantly enhance your cat's emotional wellbeing.
Moving to a smaller property
If you have multiple cats, moving to a smaller property could cause tension between the individuals. Limit the risk of antagonising by providing sufficient resources, such as:

● Beds
● Litter trays
● Scratching posts
● Food/water bowls

Moving house doesn't have to be stressful. By helping your cat settle calmly, the harmony of the new home will happen quickly and peacefully. For further tips and more detailed information about how to make moving home a smooth process with a cat, please have a read of the complete article here.
More Articles